If you have a tree you can't stand to see, call

Fully insured, certified climbing arborist providing tree trimming and removal. Founded in 2019 with 10+ years of experience. Quality work completed with safety in mind for all.
Services available in Iowa City, Coralville, North Liberty, Tiffin, Hills, Riverside, Kalona and surrounding communities.
Over 10 years ago Greg Buchmayer, owner of It's Gotta Go Tree Service, began learning how to cut trees from his father-in-law. Greg's interest in cutting trees grew which led him to expanding this experience by becoming a certified climbing arborist.
Greg is a hard working individual that takes pride in completing quality work while always keeping safety in mind for all involved during the full process – from giving the quote to the final cleanup.
Quotes are itemized to provide flexibility to the homeowner and their budget. 
Greg cares for your tree and your property as his own. We own equipment and know proper rigging to minimize damage to your property.
As a fully insured, certified climbing arborist, our goal is to leave you satisfied with the work completed.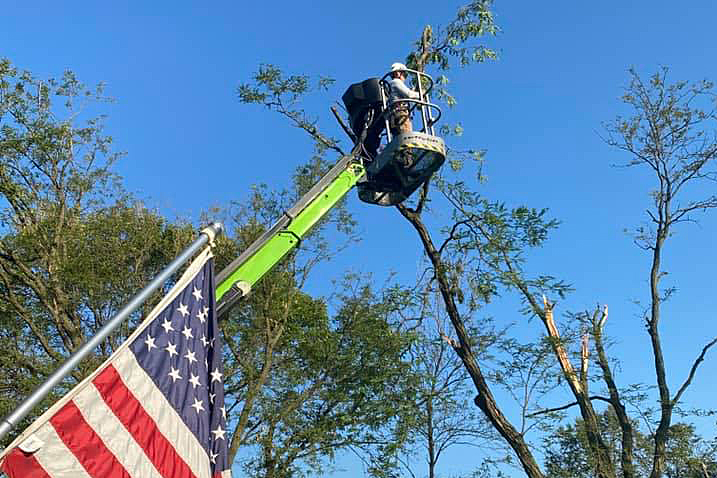 J Bennett
September 17, 2023.
I was reminded to write this review when I saw Gregg doing a job in my neighborhood recently. Gregg did 3 jobs for me going back to spring of 2020. He dropped a 55 foot tall Ash Tree in my back yard that had many very large limbs that reached over my porch, my house, my neighbors fence, and almost over my neighbors porch. He cleaned up a similar sized ash tree in our front yard after Derecho. He trimmed a white oak in my back yard that was reaching over the neighbors fence and over their pool. Gregg is a pro. He is very organized and methodical in his approach. He is very intentional with his work. He cares about your property and the neighbors property. He drops limbs and trunks where he wants them to drop; even the limbs that reached over the porch and house and fence landed safely where Gregg intended! Nothing damaged. He is very safe. He has all the proper equipment. He's gone out of state to get professional training and certifications at professional tree cutting schools. He's very knowledgeable and experienced. He's prices are very fair. I've used other tree cutting services in the past. With Gregg you don't get cigarette butts in your yard, damaged shrubs, gear left in your tree, and you don't hear cussing or "Watch out, watch out.. oh Sh#t." He's respectful. He's easy to work with, very casual and easy to talk to, and very professional in his approach and work method. I recommend everyone to consider Gregg for their next job.
Karen Dawson
September 1, 2023.
Greg cut down and removed seven diseased trees from my property. He works hard and is extremely efficient and did an excellent job of cleaning up the area. I would highly recommend this company.
Craig Thompson
August 22, 2023.
Responded to me the same day,showed up quoted a fair price . Ground out the stumps and cleaned up the mess. Highly recommend
Paul Esposito
August 13, 2023.
If you looking for a great tree service and very personal and professional people contacted it's got to go tree service highly recommended five-star
Derrick McDannald
July 25, 2023.
He did a great job. Had it removed and cleaned up in a day. Thanks for getting the tree out.
AWESOME SERVICE!!!! Greg did a phenomenal job removing 15 large arborvitae's from our backyard! It was almost like he and the trees were never here! Extremely fast from the time we called him until the trees were gone. Greg is also extremely professional, very knowledgeable, definitely affordable (especially for the quality of service), and on top of that…he was probably one the nicest people I've ever met! Thank you so much Greg! I would refer you to anyone!!! ~Josh
I am so pleased with the results of having two trees removed. Greg is very clean and professional. He is an exceptional worker that I will recommend to anyone needing the services he provides.
Hanne Dalmut
May 12, 2023.
I was out of town when a storm struck a tree on my property. Greg was very responsive and quickly performed a site visit to assess the damage and provide a (reasonable) cost estimate. We booked the service for that week but he was able to attend to the matter the very next day. All communication was well documented with photos, and he was exceptionally responsive and professional to work with. Thanks, Greg! Happy customer!
Greg did a fantastic job! He took our large elm tree down in one day, without doing any damage to a tree that was perilously close to the elm. He was extremely careful in preventing any branches from falling into our yard or our neighbor's yard. He removed a fence panel to access the tree, and put it back up for us at no additional charge (whereas other companies had told us that we'd have to arrange that on our own). Greg is a highly trained and experienced arborist and was happy to answer our many questions about other trees in our yard. He's very professional and friendly, and took extra care not to harm any birds or squirrels in the process of taking the tree down. He did a very thorough job of cleaning up both our yard and our neighbor's yard. Highly recommended!
Kathy Jones
March 15, 2023.
We recently had 2 large trees removed from our tiny backyard and couldn't be more pleased with the results. Greg is knowledgeable and professional. He took great care in the removal and clean up, including stump removal. The yard looks great!! The price was very reasonable, he listened to our requests and he arrived at the scheduled time for each visit. We highly recommend It's Gotta Go Tree Service! Thank you Greg!