If you have a tree you can't stand to see, call

Fully insured, certified climbing arborist providing tree trimming and removal. Founded in 2019 with 10+ years of experience. Quality work completed with safety in mind for all.
Services available in Iowa City, Coralville, North Liberty, Tiffin, Hills, Riverside, Kalona and surrounding communities.
Over 10 years ago Greg Buchmayer, owner of It's Gotta Go Tree Service, began learning how to cut trees from his father-in-law. Greg's interest in cutting trees grew which led him to expanding this experience by becoming a certified climbing arborist.
Greg is a hard working individual that takes pride in completing quality work while always keeping safety in mind for all involved during the full process – from giving the quote to the final cleanup.
Quotes are itemized to provide flexibility to the homeowner and their budget. 
Greg cares for your tree and your property as his own. We own equipment and know proper rigging to minimize damage to your property.
As a fully insured, certified climbing arborist, our goal is to leave you satisfied with the work completed.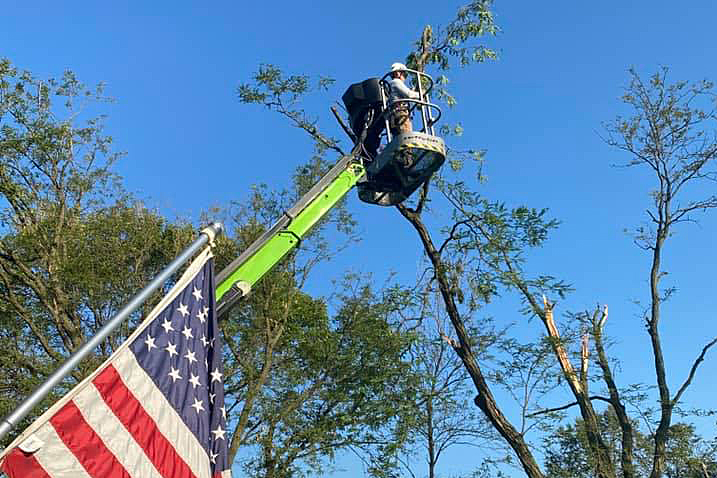 I am so pleased with the results of having two trees removed. Greg is very clean and professional. He is an exceptional worker that I will recommend to anyone needing the services he provides.
Hanne Dalmut
May 12, 2023.
I was out of town when a storm struck a tree on my property. Greg was very responsive and quickly performed a site visit to assess the damage and provide a (reasonable) cost estimate. We booked the service for that week but he was able to attend to the matter the very next day. All communication was well documented with photos, and he was exceptionally responsive and professional to work with. Thanks, Greg! Happy customer!
Greg did a fantastic job! He took our large elm tree down in one day, without doing any damage to a tree that was perilously close to the elm. He was extremely careful in preventing any branches from falling into our yard or our neighbor's yard. He removed a fence panel to access the tree, and put it back up for us at no additional charge (whereas other companies had told us that we'd have to arrange that on our own). Greg is a highly trained and experienced arborist and was happy to answer our many questions about other trees in our yard. He's very professional and friendly, and took extra care not to harm any birds or squirrels in the process of taking the tree down. He did a very thorough job of cleaning up both our yard and our neighbor's yard. Highly recommended!
Kathy Jones
March 15, 2023.
We recently had 2 large trees removed from our tiny backyard and couldn't be more pleased with the results. Greg is knowledgeable and professional. He took great care in the removal and clean up, including stump removal. The yard looks great!! The price was very reasonable, he listened to our requests and he arrived at the scheduled time for each visit. We highly recommend It's Gotta Go Tree Service! Thank you Greg!
Diana Colgan
April 29, 2022.
Wow, this guy: he is amazing. He did a great job at a fair price. If the world were made up of Gregs it would be a fabulous place
Dave Oolman
March 27, 2022.
Greg gave a very reasonable estimate on a couple large ash trees in a difficult spot along a few fences. He was friendly and when he left my yard was cleaner than when he got here. He did a great job and I would recommend him to anyone needing trees taken down.
Dusty Persinger
November 20, 2021.
Prices were amazing and Greg was communicative and awesome to work with. He removed two Ash trees in our yard this fall and kept us informed of the timeline and overall process for the tree removal. Highly recommend!
Michelle Renee
August 16, 2021.
Greg is professional and very knowledgeable. He provided excellent service with tree removal, trimming, and debris removal which have greatly improved the appearance of my yard.
Tom Jacobson
May 31, 2021.
Greg did a fantastic job! His work was neat and organized. When he trimmed the willows that line our lane he carefully protected our blooming alliums. Our place looks like it just got a much needed haircut and now that he trimmed a damaged derecho tree we can park normally again. Greg busted his butt to get it done. If you need tree work done go with Greg!!
Greg was extremely professional and courteous. He was prompt and thorough in providing his estimate(very fair pricing) and exactly what services cost what amount as well as photos to match. He quoted what he felt was the most accurate timeline instead of telling me a date that would make me more likely to use his service and likely be delayed. Greg was ahead of schedule, contacted me about coming sooner, we were thrilled. His work was amazing, careful and calculated, he dropped three trees in my yard and trimmed large branches off two others. He was ready to work by 7am and finished the job same day and there is literally no mess to be seen that indicates the tremendous amount of work the was done. Very friendly, very cordial, professional, detail oriented; truly cannot say enough good things about my experience with Greg and It's Gotta Go Tree Service,I would recommend him to anyone and feel great about doing so. I have already recommended him to my mother who lies in the house I was raised in. I received multiple estimates his was most fair as well as least invasive to my property. Seriously, you cannot go wrong with Greg's service.